Villa "La Rotonda" by Andrea Palladio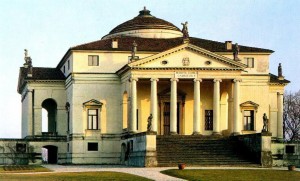 Informations pratiques :
Opening time: from 14 March to 5 November 2012.
During the closing time, groups of minimum 20 persons are accepted only on demand. 
La Rotonda is open daily, (except on Monday): 10.00 – 12.00, 15.00 – 18.00.
Interiors visiting is allowed only on Wednesday and Saturday.
Tickets: 5 €  (10 € on Wednesday and Saturday).
Reservation, only for visits out of timetable, by: e-mail: prenotazioni@villalarotonda.it – fax + 39 049 8791380.
Adress: Villa La Rotonda, Via della Rotonda 45, F-36100 Vicenza VI, Italia.
Contact : e-mail: info@villalarotonda.it, fax: +39 049 8791380.
Extrait :
La Rotonda is not a villa. It's something more.
In time it has been visited by poets and artists, sovereigns and statesmen, scholars and art amateurs, travellers and tourists. To everyone La Rotonda has given an unforgettable emotion, that sense of harmony and grace whose answer is a smile, a silence.
 After 500 years, La Rotonda today is still a place of pure beauty, waiting to give inspiration, culture, joy.